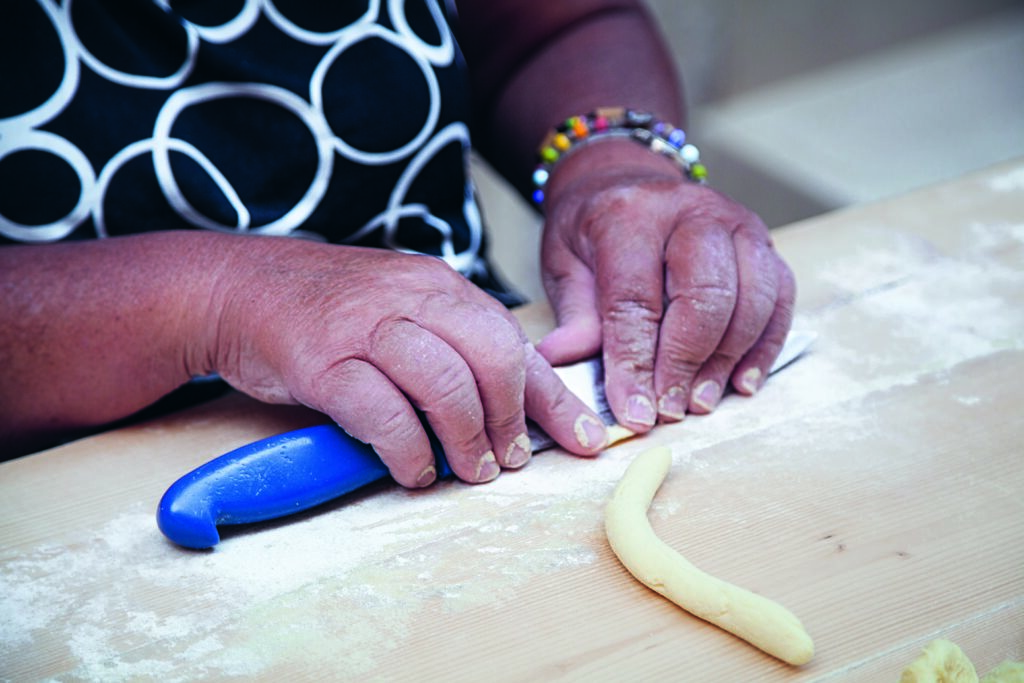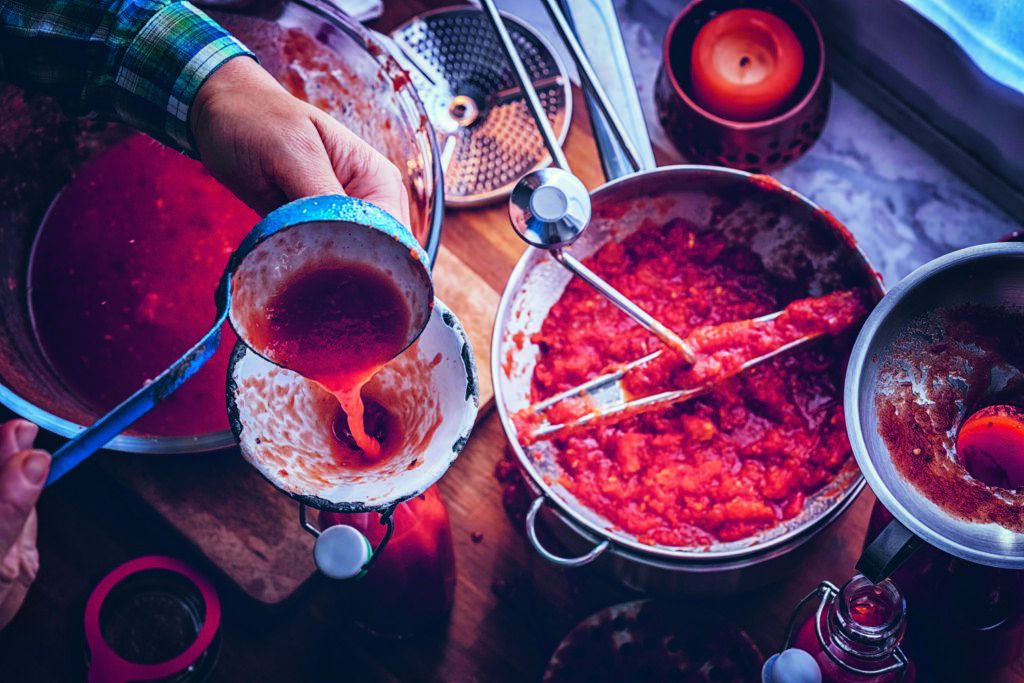 Book a unique teambuilding in your company or at an external location
COOKING WORKSHOP ABOUT ORIGINS OF ITALIAN CUISINE WITH LUNCH OR DINNER
During the workshop, your host Annet will take you on a trip through Italy, whereby you will learn all about the country and its cuisine. Feel, eat and experience the traditional and pure Italy with your team during the gusto e amore workshop.
The assignment is to create a complete Italian menu with authentic ingredients and with herbs and vegetables straight from the garden. Your work clothes will be replaced by a cooking apron. How are the tasks and roles distributed in the team and who is the chef? Cooking together is fun and you get to know each other better as a team! After the adventure in the kitchen, there is delicious food to enjoy. Specially paired Italian wines are also part of the experience.
After cooking, a festive meal is served at a beautifully decorated and richly filled, long table. How does what you and your colleagues made taste? It is an experience that will appeal to all the senses and where fun and conviviality are key. This is guaranteed to be talked about by colleagues for a long time to come.
You can choose between four cooking themes.
1. Eco-friendly con gusto
The theme of sustainability can be used in various ways and of course also in relation to what we eat. Italians really know how to conjure gems from leftovers. 'Non si butta via niente' or 'we don't throw anything away!' This is a very important fact of the circular economy. The principle is very closely interwoven with the authentic Italian cuisine and originated from poverty, but at the same time produced iconic dishes. Delicacies are still made with leftover bread, pasta, fish, meat, offal and herbs and vegetables picked in the wild. Let's try this noble Italian 'no food waste' principle during the cooking workshop.
Menu

Panzenella or a salad with crunchy vegetables and soaked old bread from Tuscany

Crostino nero  or a bruschetta with a warm meat topping with also
chicken liver and spleen, from Tuscany
Palotte cacio e ova – balls of pecorino cheese, old bread and egg in a tomato
sauce, from Abruzzo
Malfatti del salvatico – a kind of gnocchi of old bread and nettles from
Lombardy
Polpette della nonna – meatballs made from the leftovers in the fridge from
Lombardy
Fave e cicoria or white bean cream and wild chicory from Puglia
Baci di Romeo e Giulia – sweet kisses from Romeo and Juliet from Veneto

Wines/grapes: Red: Sangiovese and Rosso conero – White: Verdicchio di Jesi and
Zibbo
2. Southern Italy
The typical Southern Italian
Mediterranean cuisine consists of lots of sun-drenched vegetables,  pasta, meat dishes and fish. This kitchen is simple, pure and also especially delicious. It is the fruit of thousands of years of cultural cross-fertilisation. The many restaurants, bars and kiosks in the South offer a range of savoury and sweet specialities. In the Southern Italy workshop we will make some of the best from these.
Menu

Bruschetta rossa from Basilicata

Orecchiette or a homemade pasta in the shape of ears from Puglia

Fregula or a homemade pasta from Sardinia

Pasta sauce with ndjuja (spicy mince) from Calabria

Pasta sauce with clams or cockles and bottarga from Sardinia

Arrosticini or sticks with mutton

Seadas, a delicious dessert from Sardinia, a raviolo with pecorino cheese and honey

Wines/grapes: Red: Cannonau and Aglianico – White: Grillo and Pecorino
3. Northern Italy
The very rich Northern Italian cuisine is a mecca for gourmets. The area has a large arsenal of quality products, but its inhabitants also know how to conjure up something tasty with
little food. Original experiments and improvisations colour the kitchen. In this workshop, we put it to the test and make some unique creations based on wonderful and high-quality ingredients.
Menu
Spritz and the real Veneto aperitif in several varieties

Bagna cauda or the vegetable dips in a sauce from Piedmont

Sarde in saor or sardines in a sweet and sour dressing from Veneto

Pesto Genovese made in the mortar and linguineTortina di zucca or pumpkin tarts
with a cream of Parmesan cheese from Emilia Romagna
Cjarsons or a type of ravioli with fresh herbs and salted ricotta from
Friuli-Venezia Giulia

Tiramisu according to the original recipe from Tolmezzo

Wines/grapes: Red: Rosso conero, Barbera d'Alba – White: Verdicchio castelli di
Jesi, Soave
4. Cibo di strada or street food
Italy has a rich culture of street delicacies that vary from region to region. Italian 'street food' is not about 'fast food', but about pure dishes with top ingredients carefully prepared through 'slow cooking'. 'Cibo di Strada' are region-specific and historically grown from the food that less fortunate people could collect and prepare. Cibo di strada are rock & roll and delicious. In this workshop you will have the opportunity to learn how to prepare and taste these. These recipes are guaranteed to impress!
Menu

Chichetti or topped bruschetta from Veneto

Panzerotti or half-moon stuffed with mozzarella and tomato from Puglia

Suppli cacio e pepe or oval stuffed rice balls from Lazio

Piadina or a stuffed salty pancake from Emilia romagna

Polpette di melanzane or aubergine balls from Calabria

Cannolo dessert from Sicily

Babà al rum from Campania

Wines: Red: Lambrusco secco and Cannonau – White: Pecorino and Fiano di Avellino
The cooking workshops are flexible and able to move around. Together, we will find a suitable time in the calendar and the most suitable location for your team. This can be, for example, in one of the partner organisations in the city or the outskirts, in the countryside and also abroad.

The workshop can be given in English, Dutch, French and Italian.
Use this link to ask for more information without obligation.